MANY FARMS CHAPTER HOUSE TELECONFERENCE MEETINGS
PHONE:
(978)-990-5039
PIN: 2599998
Many Farms is located along State Highway 191, in the Central part of the Navajo Nation in Northeastern Arizona, approximately 15 miles north of Chinle in Apache County.
Now known to community members as Dá'ák'eh Halani or Many Farms, the Chapter's original name was To Naneesdizi, meaning Water Stringing Out in Rivulets. Dá'ák'eh Halani began in 1937 as a small farming community near an irrigation dam, 15 miles North of Chinle, Arizona, on the site of an ephemeral spring fed by Sheep Dip Wash, a Diversion Channel of Chinle Wash. Early on the town came to include a few clusters of residential homes. Later, during World War II, the people of Many Farms raised and harvested livestock. In 1941, Many Farms became the site of the Navajo Tribal Slaughter House and Cannery, which supplied fresh and canned meat from local livestock for schools and hospitals on the reservation. In fact, they packed and shipped livestock products to the armed forces.
Today, Many Farms is identified as a secondary growth center with educational and community facilities, public governmental services (tribal, county and state), commercial businesses and the traditional livelihood of farming and ranching. Dine College was accommodated at the local Many Farms High School before it found its permanent home in Tsaile, Arizona.
Upcoming 2022 Meeting Dates
 Planning Meeting- Dec 7, 2022 @9am
Chapter Meeting- Dec 12, 2022 @10am
Planning & Zoning- Dec 15, 2022 @9am
Wellness Meeting- Dec 20, 2022@9am
**MEETING DATES & TIMES ARE SUBJECT TO CHANGE**
For Immediate Announcements/MEETINGS: 
WOOD/RESELL PERMITS ARE NOW AVAILABLE!!
Chapter Officals
Katherine Arthur, President
Aljerino Tsedah, Vice President
Jacqueline Begay, Treasure
Administration Staff
Francine Harrison, CSC
Lewanda Ben, AMS
Nathan King, P.S.
VACANT, CHR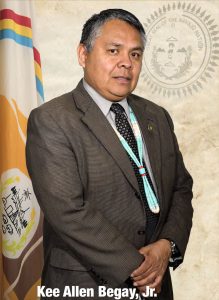 COUNCIL DELEGATE
Honorable Kee Allen Begay Jr.
  ⋗ Honágháahnii
  ⋗ Kinyaa'áanii
  ⋗ Bit'ahnii
  ⋗ Deeshchii'nii
Estelle Benally, LDA
Elected Officials
Roland Tso, Grazing Official
Julian Begay, Farm Board President
Billy Begay, Farm Board Vice President
Anson Etsitty Sr., Farm Board Secretary